Review and tests Devolo dLAN® 500 AVplus Network Kit
Package includes:
Adapter powerline dLAN® 500 AVplus - 3pcs;
Patch cord (about 2m) - 3pcs;
Installation manual - 1pc;
CD disk with software - 1pc.

Clicking, you will see the enlarge image.

One adapter Powerline dLAN® 500 AV looks like this. Quality of manufacturing is very good. The material of case is white plastic, sufficiently durable and solid. The edges are smooth; there are no rinds, the joining surfaces fit closely. Squeals and backlash are absent.

Adapter Powerline dLAN® 500 AV without the top cover. The components are installed reliably, the soldering joints look durable and securely. In consideration of the adapter conditions and principle of operation, reliability is necessary and obligatory.


To be honest, I was somewhat scared to plug the cable of the computer netcard into a 220V socket; therefore, a netbook was chosen as a 'pioneer'.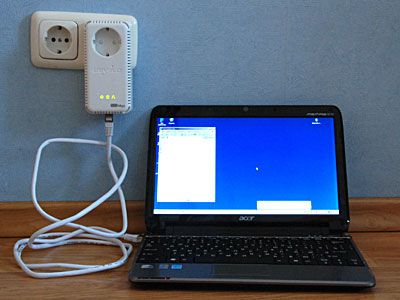 The adapter found out another powerline adapter, connected to the router, in several seconds. No adjustments were needed at all, fire and smoke were not emitted from the netbook, and a pop-up message notified of the connection to a local network. The first connection passed normally and further tests were carried out on stationary computers.
Results:
Summary table of the testing results

Connections
1 file
folder (692 files)
through the Ethernet cable
332,85 Mbps
166,80 Mbps
to extension cords (incorrect)
44,30 Mbps
39,18 Mbps
to socket (almost correct)
42,91 Mbps
39,44 Mbps
"ideal" (adjacent jacks of a single socket)
56,56 bps
51,43 Mbps
television set / media server>
sufficient rate
Wi-Fi of IEEE 802.11g standard
rate lower several times
Wi-Fi of IEEE 802.11n standard
tests were not carried out
Resume:
a real rate is about 50 Mbps, it is certainly not 500 Mbps, but quite enough for comfortable work;
prior to the use of the powerline adapters, it is required to update the flashing, on doing this the rate increases by 16%;
the rate of copying 1 file and a folder with files differs to a very little degree;
the rate practically does not depend on the 'correctness' of connection;
a television set and a media server will operate without any problems.