Review and Tests Devolo dLAN® 500 Wi-Fi Network Kit
Package includes:
Adapter powerline dLAN® 500 WiFi - 3pc;
Patch cord (about 2m) - 3pc;
Installation manual - 1pc;
CD disk with software - 1pc.
Quality of boxing is really good, but ordinary, nothing special.
One adapter Powerline dLAN® 500 (without Wi-Fi) looks like this. As usual DEVOLO quality of producing is perfect. The material of case is white plastic, sufficiently durable and solid. The edges are smooth, there are no rinds, the joining surfaces fit closely to each other. There are no squeals and backlash. Elements are installed efficiently, the solder points look securely. Comparing with "Devolo dLAN® 500 AVplus" the size of elements started to be smaller and adapter started to be smaller too. But have no inbuilt rosette.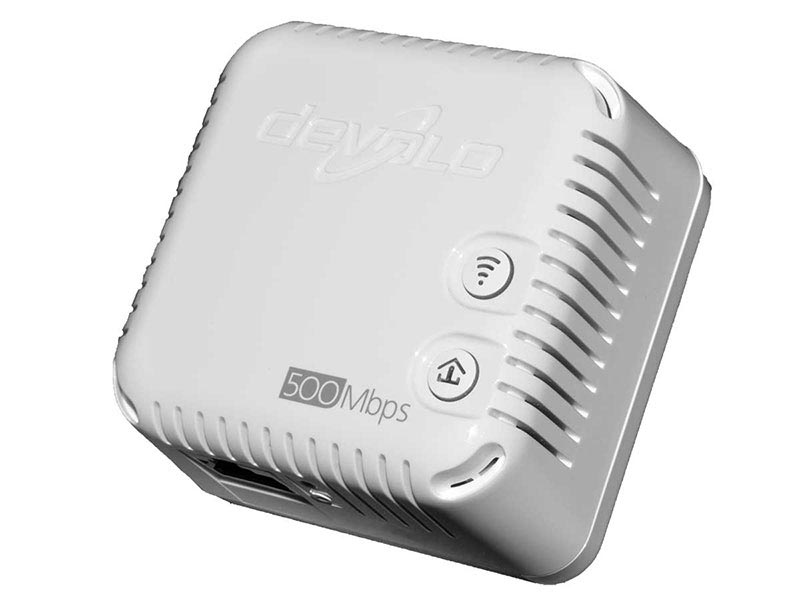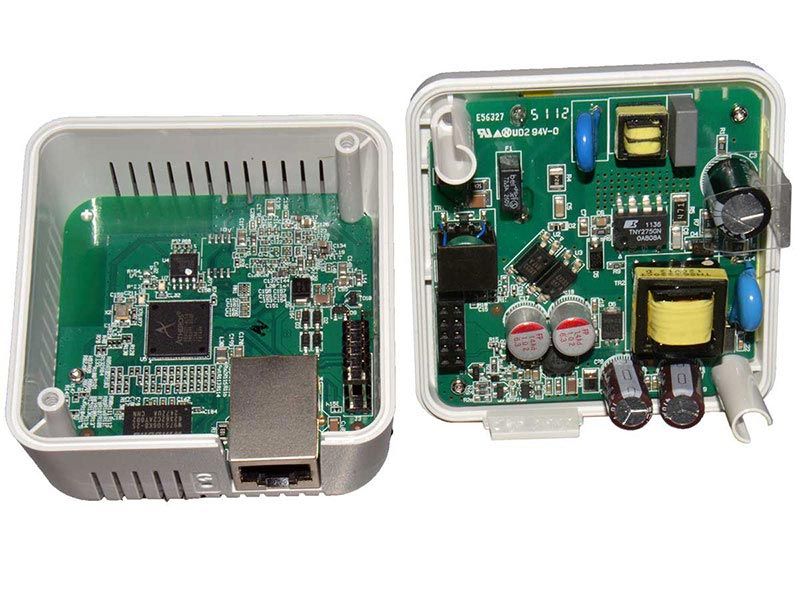 Adapter powerline dLAN® 500 (с Wi-Fi).
Powerline adapters found each other after a few seconds. Settings are not needed.
Indicators have informed about available three networks, powerline network and two Wi-Fi networks.
I liked that producer has provided the ability to switch off bright indicators and as a result it will not interfere at night.
Automatically settings of Wifi networks is working faultlessly.
After 5 seconds after pushing the button "automatically settings" the network is working and devices have connected with each other.
Also you can scan the QR-code or the password which written on the adapter`s sticker and than you can connect another devices.
Results:
Summary table of test results

Connection
1 file
folder (692 files)
over Ethernet
729,25 Mbit / s
588,70 Mbit / s
"Ideal" (adjacent places one socket)
78,27 Mbit / s
61,43 Mbit / s
in sockets (separate rooms)
67,50 Mbit / s
55,64 Mbit / s
TV / media server
is fast enough
Wi-Fi IEEE 802.11g standard
tests were not performed
Wi-Fi IEEE 802.11n standard
44,14 Mbit / s
Result:
the actual speed approximately 65 Mbps that's enough for comfortable operation;
before using powerline adapters, will be desirable to update the firmware;
The speed of copying one file and many files differs insignificantly;
from the "correctness" of the connection speed is virtually independent;
TV or media server will run without problems;
adapter from the kit can be used in any combination;
speed for Wi-Fi approaching speed powerline;
Wi-Fi can be turned off and only use the network wiring.
Very convenient and useful device
with a perfectly balanced characteristics.