Fiber Endface Microscope - EasyGet Wifi Wireless
For visual inspection LC, MU, SC, ST, FC, MPO/MTP and other
Dimiks is the official distributor of Dimension.
The dirt and/or damage on fiber endface of the optical connectors, could directly cause attenuation or even makes the optical path blocked down, they are the most common causes of optical network problems.
Therefore, a lightweight, portable, fast and intuitive wireless fiber endface inspector is quite necessary and indispensable for field technicians.
Dimension EasyGet Wifi is a real wireless fiber endface inspection solution, it transfers real-time videos or images via Wifi (or USB) to intelligent terminals. Field technicians can visually check the fiber endface on their mobile devices.
Lightweight & portable, easy to use, built-in battery, universal Type C interface and LED lighting, all these user-friendly designs, provide users unparalleled handling experience, making it the most practical fiber endface fiber (and module endface) inspection tool.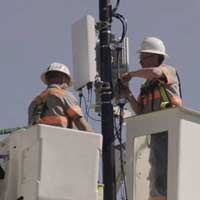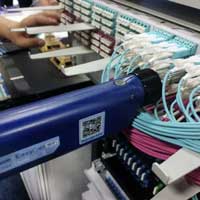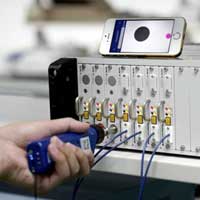 Main Features
Lightweight and portable, easy to use
Support Wifi and USB data transfer
Real-time viewing and auto-save images, intuitive and intelligent
Compatible with mainstream intelligent terminals (Wins/Android/iOS)
Built-in battery, duration up to 5 hours
Universal USB Type C interface, compatible with various charging devices
LED light, flexible at low-light or dark environment
OTDR partner, ideal tool for field technicians
Applications
5G optical network construction and maintenance
Data center
High reliability fiber connection
Laboratory and manufacturing test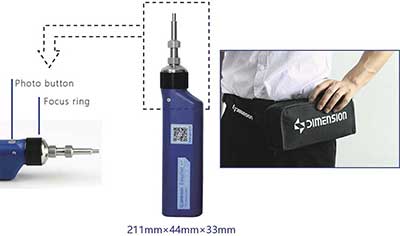 Portable, easy to use
EasyGet Wifi is lightweight, portable, and durable. One-hand operation and slim body design enables the inspection for the most complicated scenar1os. The unique surround focus ring and image capture button, makes the fiber endface inspection more easier.
Wifi Data Transfer
EasyGet Wifi can transfer the fiber endface images to various display terminals via Wifi. Press button on the body or click on smart devices, users can capture the fiber endface images or save them on display termi­ nals, it is very convenient to view and save online.
Wide OS Compatibility
EasyGet Wifi software is widely adaptable and can be used on PCs and various mobile devices with mainstream operating systems (Wins/Android/iOS). You can directly use the smartphone, laptop or tablet for convenient operation.
Scan the QR code on the body to download and install the EasyGet Wifi APP. No special training is required and the installation is easy and convenient.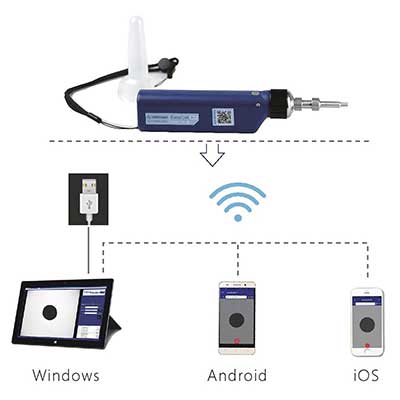 Intuitive interface,
intelligent displays EasyGet Wifi has the most user-friendly design, the inter­ face is simple, intuitive and intelligent. In addition to view­ ing and recording function for the fiber endface status, users can pinch-zoom images, and rotate the screen per watching habits etc.
Universal USB Type C interface
EasyGet Wifi has a built-in rechargeable intelligent battery, duration up to 5 hours in a single operation. It also can be used while charging. EasyGet Wifi is equipped with an universal USB Type C charging interface, which is compatible with various charging devices, such as PC's USB interface, power bank etc. Users no need to carry a dedicated charging device.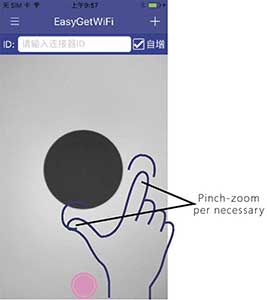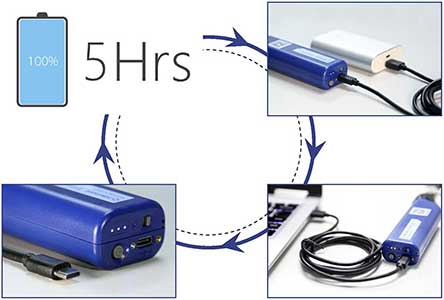 LED lighting
EasyGet Wifi equipped with LED light, it can be easily used even in low-light or dark environments, bring Dimiks customers with great convenience.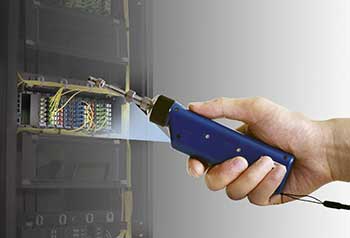 OTDR best partner
EasyGet Wifi is the best partner for OTDR, and the matching choice in fiber endface inspecting for field technicians.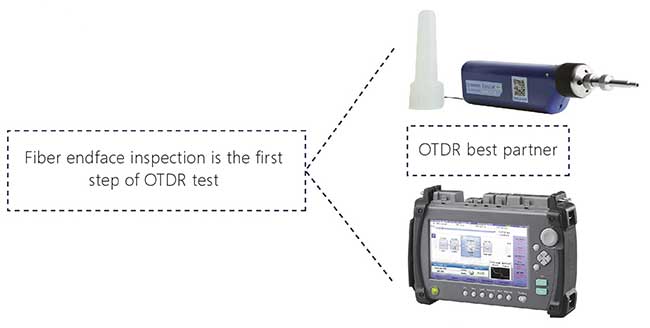 Rich adapter parts
EasyGet Wifi has more than 50 kinds of adapters, can meet user's different inspection needs, support MPO/MTP. Special adapter interface can be customed.

Product Details
| | |
| --- | --- |
| Projects | Parameters |
| for | LC, MU, SC, ST, FC, MPO/MTP and other |
| Resolution | 0.42um |
| Image Sensor Optical | CMOS, 5MP, Five million |
| Magnification Particle | 200X - 400X |
| Size Detection Video | <1um |
| Signal Format Field of | MJPEG |
| Focusing Mode | Manual |
| Signal Output | Dual: WiFi / USB Type C |
| Software Compatible | Android 4.2/IOS 9.3/PC Win7 or later version |
| Power Supply | Built-in Li-ion battery (chargeable & replaceable) |
| Life time | 5 hours |
| Charge Time | 2.5 hours |
| Charge Adapter | USB DC adaptor 5V/2A, including US,EU,UK,AU...adapters |
| Accessibility | With white LED environment lighting |
| Operating Temp. | -5°C to +40°C (-40 °F to 158 °F) |
| Storage Temp. | -20°C to +55°C (-40 °F to 158 °F) |
| Relative Humidity | <90% (Working/Storage) |
| Weight | 188g |
| Dimensions | 211mm x 44mm x 33mm |
| | |