Outdoor optical patch cord to connect PON and FTTH. (1,5кН)
In the manufacture of outdoor patch cords (patch cord outdoor) used dielectric flame retardant cable.
For ease of installation in PON boxes on each side of the patch cord cable used instead of 5 mm cable 3 mm with fiber cable is not cut, and remains whole!
Bifurcation tube is put on the fiber, at the junction of shrinking set with glue, that would prevent the ingress of moisture and harden the connection.
Patch cords are available to order in any length, with all types of connectors.
Basic characteristics
Transmission
Attenuation at a reference wavelength, dB/km:
- 1310 нм
- 1550 нм

0,32
0,19
The chromatic dispersion coefficient at a reference wavelength ps/(nm km):
- 1310
- 1550


3,5
18
Geometric
Shell thickness, mm
2,0
Nominal diameter of cable, mm
5,0
Nominal Weight, kg/km
20
Mechanical and climatic
Minimum bending radius, mm
166
Tensile strength, kN
1,5
Permissible crushing force, kN/cm
0,2
Resistance to axial torsion angle of ± 360°,
a length of 1m>
10 cycles
Resistance to blows with initial energy, J
10 (25 beats)
Operating temperature range, °C
-40°С - +70°С
Installation temperature range, °C
-10°С - +60°С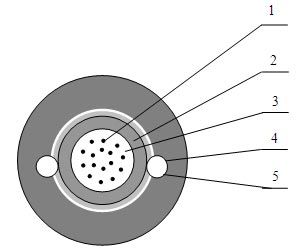 1 optical fiber;
2 tubular core;
3 hydrophobic compound;
4 fiberglass rod;
5 external polyethylene sheath.